INITIAL EVALUATION
An initial evaluation is an appointment with Doctor Eslinger after having a medical records evaluation phone consult. This is a one hour appointment.
Our goal is to educate you in order to assist you in making the best decisions concerning your treatment options.
Some of our patients have just been diagnosed with cancer or a degenerative disease and don't want to do traditional therapies such as: surgery, radiation, chemotherapy and toxic prescription medications.
Some patients have been to many doctors and are still dealing with the same medical problems, yet taking costly and sometimes harmful medications.
At Reno Integrative Medical Center we don't simply put band aids on symptoms; we look for and treat the underlying causes.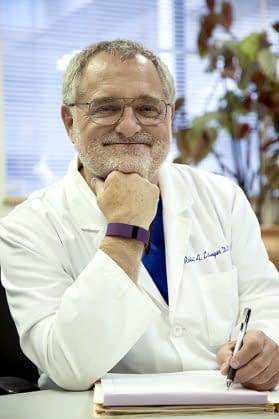 Cost for new cancer patient evaluation is $400 – $100 deposit required to secure appointment. This initial appointment is divided in to 2 parts:
First, prior to coming to the office, you will have a phone session with Dr. Eslinger for $250.
Second, an in-office visit with Dr. Eslinger for $150.
We have found that the initial appointment with Dr. Eslinger being a Telephone Medical Records Evaluation instead of an initial in-person appointment has been the most beneficial for our new cancer patients for many reasons such as:
Easing time and cost restraints
The ability for the prospective patient to meet and speak with our Doctor about their diagnosis
The ability to discuss your current state of health and the treatments we offer
Allows your loved ones and/or patient advocates to be with you during this phone call
Helps to gather information towards a decision on whether this is the best treatment plan for you
We ask that medical records be sent to the clinic no later than 5 business days before your appointment. We also ask that you send only recent scans, current blood tests and the original pathology report. Please send via email or fax – no CD's will be accepted. Please note: If your medical records are not received in time, your appointment may need to be re-scheduled.
Dr. Eslinger will review your records and discuss treatment options. The information gathered will help in the decision making process. Our office will be in contact after the Medical Records Review to go over costs and scheduling.
Cost for non-cancer initial evaluation is $300 – $100 deposit required to secure appointment.
Appointments can run anywhere from 1 – 2  hours
Deposits for appointments will be applied toward the new patient appointment fee.
If you are not able to pay your deposit via credit/debit card and you wish yo pay by check, your payment must be received within 2 business days of scheduled appointment.
Appointments without a deposit will be cancelled within 2 business days of scheduling.
We ask for a minimum of 3 business day notice to cancel.
Your appointment with Dr. Eslinger is a crucial part of your treatment. We make every effort to provide you with the best possible care and attention.
Payment and Cancellation Policies
Call (775) 829-1009 to schedule appointment