Boosting the Immune System
Boosting the immune system falls under the category of Biological Response Modifiers. The following therapies act as a "Wake -up" call to the body.
Some may assist others in being more potent.
Others may stimulate what is referred to as an "Immune response."
We utilize multiple therapies to boost the body's immune system and empower it to battle cancer cells. Substances we administer to promote this effect can be taken orally, intravenously, or intramuscularly.
Therapies:
creating an immune response 

Assisting other cells to become stronger
This therapy stimulates T-cells to generate anti-cancer cytokines that seek out abnormal cells in the body.
The immune system attacks things it recognizes as foreign and abnormal. This recognition involves binding to very specific molecular sequences called "antigens". These compounds, on the surface of the foreign (tumor) cells, stimulate what are called cytotoxic T-cells.  These T-cells bind to the cancer cells and inject cytokines which kill the abnormal cell.
We take a sample of the patient's blood, process the white blood cells, and reinject them into the patient's body. The new and improved T-cells then seek out cancer and attack it.
T-cells are the body's soldiers and guardians. When a patient's immune system is weak T-cell counts are low.  It is important to build up T-cell numbers and aggressiveness.
Training your army of T-Cells
Dendritic cell vaccine is used to treat a variety of malignancies such as: pancreatic cancer, liver cancer, leukemia, multiple myeloma, colon cancer and ovarian cancer, to name a few. If a tumor is accessible, the vaccine may be injected right in to the tumor. We have seen a large success of patients tumors reducing using this method.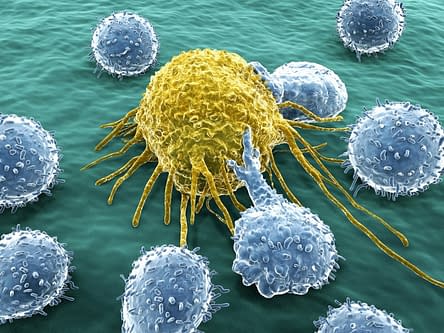 Creates a healing response
Stimulates healthy cells
This nutritional supplement contains a combination of the mineral palladium, an alpha-lipoic acid, and various other vitamins, minerals, and amino acids that works to kill anaerobic cells and enhance the immune system.
When palladium is sequestered in alpha-lipoic acid, it is benign-useful, in fact, to healthy cells, but it is toxic to cancer cells at the same time.
Stimulates immune system
Helps to improve effectiveness of Chemo
Helps to offset unfavorable reactions to chemo
Mistletoe injections (taken from Viscum album) help bolster the immune system, fight cancer, and increase tolerance to chemotherapy and other treatments. A recognized complementary cancer therapy for over a hundred years, mistletoe injections also provide the patient with more energy and better sleep.
A huge stride in regenerative medicine has occurred using stem cell therapy in the form of  Exosomes. It is believed to aid in the treatment of cancer as well as a range of other diseases, such as heart disease, heart failure, Parkinson's disease, chronic obstructive lung disease (COPD), and osteoarthritis. Exosomes are packets or proteins secreted by stem cells, contain fats, messenger-RNA, and cytokines that encourage cell regeneration.