DOCTOR ROBERT A. ESLINGER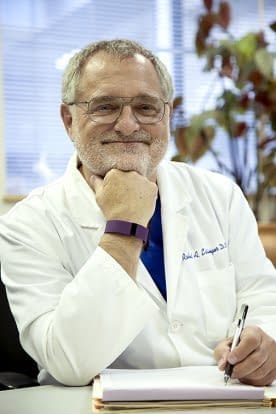 Doctor Robert A. Eslinger,

D.O., H.M.D.
Doctor Robert A. Eslinger D.O., H.M.D. or "Dr. Bob", as we fondly call him,  has been in clinical practice for over 40 years. He is certified in Family Practice, Osteopathic Manipulation and in Nevada, certified in Homeopathic Medicine.
He specializes in cancer and chronic disease and is referred to as an integrative cancer doctor. He is currently licensed to practice medicine in California, Idaho and Nevada.
The D.O. (Doctor of Osteopathic Medicine) means fully licensed to practice medicine but also able to do Osteopathic Manipulation for structural problems.
The H.M.D. (Homeopathic Medical Doctor) means licensed in far more than just Homeopathy.  It covers all of Alternative Medicine.  Nevada is one of only two states that provides this extra licensing (and protection) for Alternative Medicine.
---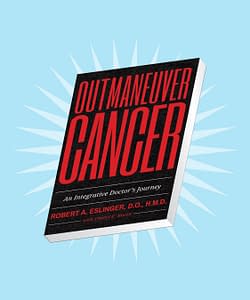 Dr. Eslinger is always keeping an open mind to new and old therapies with proven results.  His specialty is in the field known as Biological Medicine, which combines classical treatments with modern science and technology.
He has written Outmaneuver cancer to help dispel the notion that cancer therapy has limited options.
Dr. Eslinger has been in practice for over 40 years. He has been in conventional medical practices, ER and hospital settings before embarking on specializing in cancer and chronic disease. Health and wellness is the ultimate goal.
Therapies such as; TCRP (T-cell rich plasma) ( to enhance the natural immune response in the body by activating the "T" lymphocytes with a stimulating amount of heat), GcMAF (utilizes a natural body compound to stimulate the immune system in such a way that it allows the body to be able to detect the previously hidden cancer cells.)and UBI (using ultra-violet light to stimulate and balance the immune system) are good examples.
Why poison the entire body with classic chemo therapy when you can use 10% and target the cancer cells specifically with IPT
Dr. Eslinger was appointed by the Governor in November of 2008 to sit on the Board of Homeopathic Medical Examiners for the State of Nevada.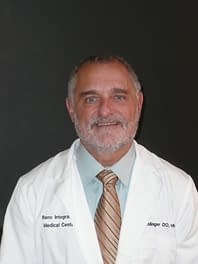 Dr. "Bob", as we call him, is a compassionate physician who takes time to listen to his patients needs. He offers an abundance of both clinical and life experience to his practice.
At the time that Dr. Douglas Brodie the founder of Reno Integrative Medical Center, was presented his lifetime achievement award from the Cancer Control Society, he announced that Dr. Eslinger would be his choice as a successor to carry on what he had spent his entire adult life creating.
Building upon Dr. Brodie's formulas, Reno Integrative Medical Center still remains one of the top in the world for instituting the newest and less damaging therapies to our cancer and chronic disease patients.