KIDNEY CANCER TESTIMONIAL
Testimony of Dana R.
Kidney Cancer "You have cancer." Pretty scary words, especially for someone in their 50's who had been to a doctor maybe twice. I had successful surgery to remove a cancerous kidney, but the next step involved marginally useful drugs with nasty side effects. And they were offered with a dash of pessimism typical of most oncologists.
Reno Integrative offered a different approach. With empathy and caring, the doctors and staff at the clinic were incredible at explaining and guiding me through the initial phases of healing. It's been almost a year since I started treatment at the clinic and I feel great and my cancer is shrinking.
The most important thing I came away with is realizing the power of the mind in the healing process. Not only my own mind, but also in the collective minds of everyone at the clinic. You can tell they truly believe in and care about what they are doing and the people in their care. That's the real power behind healing. Thanks for everything. 
From Kidney Cancer Testimonial back to Testimonials
---
We provide a questionnaire form below should you have  specific questions.  Our website is full of great information and we encourage you to read and learn as much as possible. 
Our liaison services staff will respond to your inquiry.
---
Have a question about your cancer treatment options?
Complete the form below.
Please understand that we cannot diagnose or give medical advice to non-patients. We will do our best to address your comments and questions through an e-mail response.
We do offer private phone sessions with Dr. Eslinger for a fee.  See Medical Records Evaluation under New Patients.
---
Watch Dr. Eslinger's informative videos explaining many of our therapies. YouTube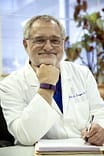 Read informative blurbs, from our BLOG, on various therapies.