STEM CELL THERAPY
Stem cell therapy offers amazing opportunities for people with chronic health problems to heal naturally with minimal rejection.
It is also a powerful tool to have for maintaining vibrant health.
There are five main sources for obtaining stem cells from human bodies; bone marrow, fat tissue, dental pulp, umbilical cords and placentas of healthy new born babies.
The most accessible and non-invasive sources that we offer at Reno Integrative Medical Center are the umbilical and placenta stem cells.
We offer two stem cell therapy options.
Umbilical stem cell therapy is a non-invasive stem cell source. It is live cell and requires overnight frozen shipping.
HAM or (Human Amniotic Membrane) is the less expensive source of stem cells which does not require storage in a frozen state. This therapy is only available for joint repair.To read more about HAM stem cell therapy.
---
Umbilical stem cell therapy
Umbilical stem cells are referred to as mesenchymal stem cells. They are derived from the connective tissue in the umbilical cord called "Wharton's Jelly". They are also called "Multipotent", which means they can regrow or replace most cells in the body.
Umbilical cord stem cells have the highest potency and potential for healing.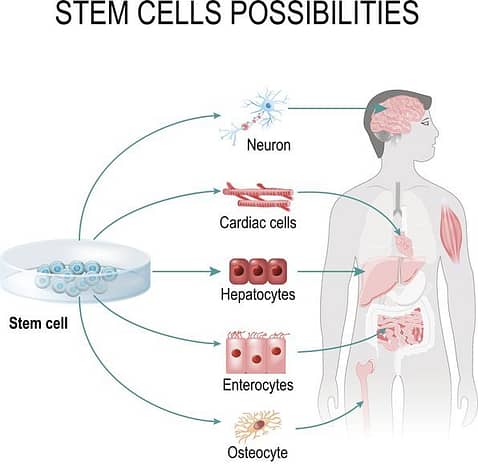 The umbilical stem cells that we use to treat patients at Reno Integrative Medical Center are obtained from a company in the United States. They get the cells with the full consent of healthy mothers who deliver healthy babies by C-section.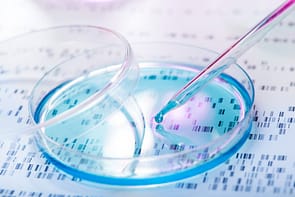 Once harvested, the cells are grown in cell culture to expand the number of them. Also, extensive testing is done on them to assure that there are no bacteria or viruses in the sample.
There are two different ways to administer this therapy.
The first is through a smaller dose into a very specific location such as into a joint or organ.
The second is by injecting a larger dose intravenously suspended in what is called normal saline. This is a solution of sterile salt water at the same concentration as the blood.
Stem cells harvested from ethical sources offer hope for people who in the past would have seen slow steady deterioration in their health and quality of life even with the full use of the most current drug regimen.
Who can benefit from
Stem Cell Therapy?
Some examples of conditions that have been shown to benefit greatly from stem cell therapy are:
Rheumatoid arthritis
Multiple Sclerosis
Congestive heart failure.
Regenerate deteriorated joints like knees and shoulders that would normally have required artificial joint replacement.
Parkinson's Disease
* Because these are such new therapies, no guarantees for any particular outcome can be made.
---
.
Stem cell testimonials
While my husband was going through his cancer treatments I started PRP ( Platelet Rich Plasma ) treatments on my knees. I had injured both my knees in a fall on ice years ago and they had become severe bone on bone. I wasn't a candidate for knee replacement due to my Multiple Scolerois. Dr Bob suggested that I try the PRP treatment and I got immediate relief from the pain.
I continued these treatments till Stem Cell treatments were available and I had my first one in June. I was at that time using a walker and a cane due to continuous falling from my MS. When I arrived the day of my first Stem Cell treatment I was not doing so well. I was in a lot of pain from a recent fall and could hardly walk. My balance had gotten progressively worse.
What happened next is unbelievable.
Directly after the Stem Cell injections into my knees I was able to hop off the table and start walking with no cane or walker. We all were in shock. I walked all around the clinic with no pain or problem. When we arrived at the motel that afternoon I was ready to climb the stairs but I was advised not to push it.
Today it has been almost 2 months since I've had the injections and I am doing fantastic. I am still walking with no problems, my balance has been remarkable and the brain fog I was experiencing has improved tremendously.
I can't say enough about this Stem Cell Therapy.
It has given me my life back. I am going out with my friends more often and they can't believe the difference in my walking and my balance.
So for anyone who is contemplating having the Stem Cell treatment done, please consider Reno Integrative Medical Center. They are a wonderful group of people to work with. We highly recommend Dr. Bob and the Reno Integrative Medical Center.
Recent Stem cell result on MS patient
I have been dealing with M.S. for 45 years without medication having good days and bad. I take a lot of supplements and eat a well-balanced diet. There has been a decline in the way I felt this last year so I did Stem Cell Therapy on Friday afternoon, October 12th. It took 58 minutes.
I started to feel a tingling in my mouth around my crowns and fillings, and then there was a pin prick in my left breast for a split second. I really didn't feel too much change the day of the treatment.
It has been 6-days I have more energy, speech is better. I can lift my feet when I walk. Don't have to use a cane when I go out. I am sleeping through the night. Not having to use the restroom as often. Today I could feel my feet on the floor which I haven't felt for many years.
My balance is getting better every day. Brain fog is gone.
G.T.
72 year old female
10/2018
Miller Stem Cell Testimonial
My husband and I both have old injuries that required surgery, according to the conventional medical system. We both sought to find out as much information as possible about our other options. Reno Integrative discussed with us all of our options and answered all our questions. We decided stem cell shots were the right choice for us. I had an injection directly into the injured hip. My husband had one in his neck where he herniated a disc. We also each received the iv stem cell treatment, that targets the major organs of the body.
My husband had pain everyday for nearly 25 years. Since the stem cell shot he is pain free. Activities that used to be painful, like driving long distances, are now pain free!
My experience was a bit different. While my pain did not disappear immediately like my husband's, it got better day by day. I went on a 3+ mile hike this week, pain free! I haven't done that since before the hip injury.
We are both thrilled with the professional care of RIMC, and the results of the stem cell treatments. We are excited about our continued healing. We recommend stem cell shots and Reno Integrative Medical Center to anyone who is interested in true healing and a pain fee life.
Mike and Michelle Miller
12/2018
If this therapy is something you would be interested in, call our office at 775 829-1009 to schedule an appointment with Dr. Eslinger.
If you have specific questions you would like addressed, please fill out the form below and our liaison services will respond.
---